319 B East Pine Avenue, Wildwood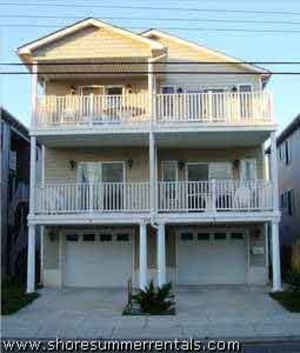 * Just steps to the beach and boardwalk
* Large open layout condo, balcony
* HD flat panel TV, WiFi
* Sleep up to 12

OPEN LAYOUT AND OVERSIZED BALCONY. Spread out all of your guests among four bedrooms, while keeping everyone on one floor with our open concept home. Enjoy ocean and boardwalk views from our large ocean view balcony.
NEW THIS YEAR: PET FRIENDLY for 1 small dog (sorry, no cats)
EVERYTHING YOU NEED. The location is unbeatable and our service is top-notch. Attractions and restaurants are right up on the boardwalk. Park up to 2 cars and never drive anywhere. This luxurious house provides you with everything you need to enjoy a wonderful vacation retreat with all your closet friends and family.
+ House Amenities
Ground level:
Garage/Driveway parking for 2 cars
Beach chairs, umbrella and cart
Outdoor shower
Balcony:
Ocean views
Balcony table and seating
Great room:
Couches and seating
HD Television & DVD
Wireless High Speed Internet
Laundry room with Washer/Dryer
Laundry and cleaning supplies
Kitchen/Dining area:
Dining Table for 8
Full range of appliances
Cooking and servingware
Each Bedroom:
Flat screen television (3)
Closet / Dresser
Pillows & comforters, linens and towels
+ Sleeping Accomodations
Bedroom 1 – Twin over Twin Bunk, Twin over Twin Bunk (4 Twins Total) Bedroom 2 – Twin over Full Bunk, Twin Bed Bedroom 3 – Queen Bedroom 4 – Queen Master Suite
Sleeps 12 guests.
Comforters, linens and pillows included for all beds. Towels are provided for the bathrooms.
+ Detailed Description
This elegant 4 bedroom and 2 bath condo features an extensive array of luxury amenities, along with one of the best locations in the Wildwoods. Guests are located on beach block from the famous free beaches and lively Wildwood boardwalk. The condo is located on the second story of a two-unit condo building.
Some of the unique features this home boasts is a garage with parking for one cars and one in the driveway, and a huge overhanging second story deck with ocean views. When enter into the house, they will find a very spacious and functional floor plan. The living area features a sofa and loveseat, along with a HDTV, DVD, and wireless high speed Internet. The adjoining dining area seats 8 at the main dining table, with seating for 4 more at the kitchen's breakfast bar. In the fully loaded kitchen, you will find every utensil and appliance that you may require during your stay.
The condo's first bedroom contains 2 twin over twin bunks (for a total of 4 twin beds) and a dresser. Down the hallway, guests find a fully stocked laundry area complete with washer and dryer. The hallway also has a full bathroom.
Inside the second bedroom, guests are provided 2 more twin over twin bunks (another 4 twin beds), a spacious closet, and a dresser. In the third bedroom is a queen bed, dresser, closet, and TV. Finally in the spacious master suite, you will find a queen bed, cable TV, a large closet, and a full bathroom.
This is one of our favorite houses because of its shear warm, welcome luxury in a very quiet and convenient environment. It sleeps plenty of people, with still a ton of room to spread out throughout the house. It's location is unbeatable, with direct walking access to the Wildwood, beaches, and boardwalk.
Also found in all of our properties upon arrival are: starter supply of toilet paper, paper towels, hand soap, dish soap, dish washing detergent, laundry detergent, drying sheets, broom and vacuum, cleaning supplies, plastic wrap, plastic bags, aluminum foil.
We are also happy to assist in arranging for any additional needs your guests may have, including the rental of child-care equipment (strollers, pack and plays, cribs, etc.) and beach equipment.
2019 Rates
6/29 - 8/17 (Saturday to Saturday 7 nights): $3,100
8/17-8/31 (Saturday to Saturday, 7 nights): $2,800
Labor Day Weekend: Saturday to Tuesday: $1,000
September Weekends: $1,400 to $1,800
No Security Deposit, 12% NJ State Sales & Occupancy Tax
Take a look where you'll be staying...